NEWYou can now listen to Fox News articles!
Ozzy Osbourne was "feeling good" as he was pictured leaving the hospital in a wheelchair with wife Sharon by his side following a "major operation" which she said was going to "determine the rest of his life."
The 73-year-old rock star wore black sweatpants and a long-sleeved shirt with hospital bracelets on his wrists as a medical professional guided the family out of the facility and to a waiting vehicle after his surgery. 
The family hasn't publicly discussed the medical procedure Ozzy had to undergo, but Sharon admitted Ozzy was "feeling good" on Wednesday in a throwback snap shared on Twitter of Ozzy standing at the microphone.
Ozzy also spoke out the same day, sharing that he is "now home from the hospital recuperating comfortably," the 73-year-old musician tweeted to his millions of followers. 
"I am definitely feeling the love and support from all my fans and send everyone a big thank you for their thoughts, prayers and well wishes during my recovery."
OZZY OSBOURNE HOME FROM HOSPITAL AND 'RECUPERATING COMFORTABLY,' THANKS FANS FOR 'PRAYERS' POST SURGERY
In the snapshots, Sharon, his wife of nearly 40 years, is seen following closely behind wearing a powder blue pantsuit. They both followed COVID-19 protocols and wore protective face masks as they left the health center.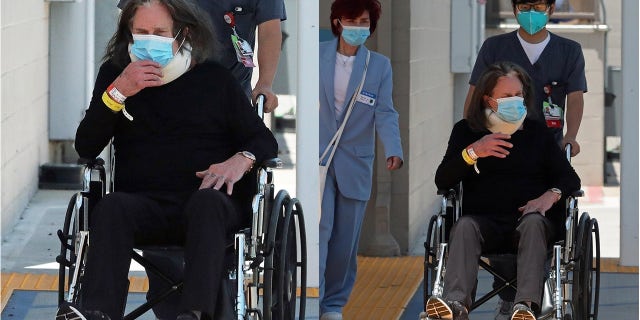 "Our family would like to express so much gratitude for the overwhelming amount of love and support leading up to Ozzy's surgery," she wrote on Twitter Tuesday afternoon. 
"Ozzy is doing well and on the road to recovery. Your love means the world to him," she added with a praying hands emoji.
Last week, she indicated Ozzy's situation was challenging, and he would need a difficult surgery. She immediately flew back to the West Coast from London to be by his side. 
"He has a major operation on Monday, and I have to be there," she told her fellow TalkTV panelists last week. "It's really going to determine the rest of his life." 
OZZY OSBOURNE DISCUSSES SLOW RECOVERY FOLLOWING SPINAL SURGERY, PARKINSON'S DIAGNOSIS
A report has since surfaced stating that the procedure was to remove and realign pins in his neck and back. "Ozzy is 73 and any kind of surgery when you get older is difficult," a source told Page Six. "This is quite major. He's having the pins in his neck and back realigned from when he had a fall back in 2019."
On Monday, both Sharon and Kelly were seen visiting the Black Sabbath frontman at the hospital hours after Sharon revealed his urgent medical needs. Kelly, 37, is currently pregnant with her first child with musician boyfriend Sid Wilson of SlipKnot. 
"He's been in a lot of pain," the source noted of Ozzy's physical condition as of late.The "Prince of Darkness" will also reportedly require a "lengthy amount of convalescence" with round-the-clock care provided by a nurse at home.
Ozzy's back problems likely stem from the all-terrain vehicle collision in 2003 where he flipped his quad while riding…


Read More News: Ozzy Osbourne, 73, 'feeling good' as he leaves hospital in a wheelchair with wife