During the AMD Keynote at Computex 2022, its CEO, Dr. Lisa Su officially unveiled their next generation of Ryzen processors and the successor to the highly successful Ryzen 5000 series. The new family, the Ryzen 7000 series, will feature up to 16 Zen 4 cores using TSMC's optimized 5 nm manufacturing process. 
AMD Ryzen 7000 also officially marks the end of its long-serving AM4 socket, with the new AM5 LGA1718 socket replacing it with a freshly announced trio of new performance-driven chipsets, including X670E, X670, and B650.
AMD Ryzen: A Brief Recap of Five Years Reinvigorating the Desktop
Since AMD's original Ryzen (Zen) debuted back in 2017, AMD has consistently innovated and progressed its core architecture in a way that before Zen, no one other than AMD itself thought possible. Some of the main advancements that came with Zen included the new AM4 socket, which is undoubtedly one of the most successful in its history and brought DDR4 memory to the mainstream market. In 2018, AMD shipped its updated Zen+ microarchitecture through the Ryzen 2000, based on GlobalFoundries more efficient and optimized 12 nm architecture, along with a notable uplift in IPC performance gains to boot.
Moving forward into 2019, AMD debuted the Zen 2 architecture, which was used as the basis for the Ryzen 3000 series of CPUs. Switching to TSMC's high-performance 7 nm manufacturing process, AMD delivered higher performance levels over Zen/Zen+, with double-digit gains in IPC performance and a completely new design shift through the use of chiplets.
This continued into 2020 when AMD started shipping its Zen 3 core with monumental gains over Zen 2, with up to 19% gains in IPC over Zen 2, as well as the introduction of its Resizable BAR feature, higher levels of L3 cache than ever before, and the introduction of PCIe 4.0 to desktop. 
AMD Ryzen 7000: Bringing Zen 4 and 5 nm to Consumer Desktop
The latest in AMD's arsenal, and perhaps one of the most highly anticipated processor announcements of the year, the AMD Ryzen 7000 family has finally been announced with some new features designed to deliver a premium desktop experience. We've known for a long time that the Zen 4 microarchitecture is based on an optimized TSMC 5 nm manufacturing process, but we haven't learned some of the more detailed intricacies until now.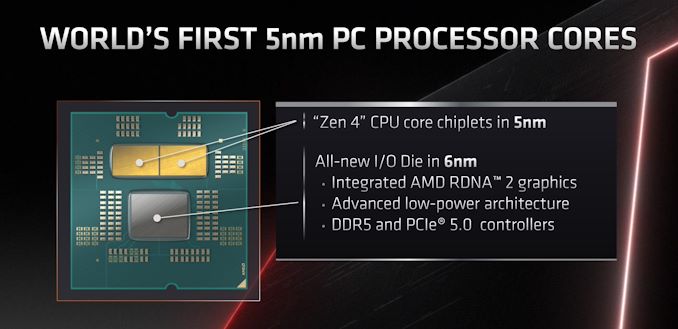 Although the TSMC 5 nm manufacturing process was initially found in smartphones, with Apple and Huawei both championing the transition, Zen 4 marks the first use of 5 nm for desktop systems. The AMD Ryzen 7000 and Zen 4 are similar to Zen 3, including a chiplet-based design, with two Core Complex Dies (CCDs) based on TSMC's 5 nm manufacturing process.
While AMD isn't going into great detail on the Zen 4 architecture today – they have to save something to disucss for later in the year – for now the company is disclosing that Zen 4 will come with 1MB of L2 cache per CPU core, which is twice the amount of L2 cache as found on Zen 3 (and Zen 2) CPU cores. Meanwhile L3 cache will remain a subject for another day; AMD isn't offering details on its L3 cache or whether we will see Zen 4 models with its 3D V-cache…


Read More News: AMD Ryzen 7000 Announced: 16 Cores of Zen 4, Plus PCIe 5 and DDR5 for Socket AM5,