Dr Peter Hotez, who co-chairs the Lancet Commission on Covid-19 Vaccines and Therapeutics Task Force, talks to Kaunain Sheriff M about the next phase in the development of Covid-19 vaccines, explains why heterologous boosters will give more "enduring and lasting protection", says the Indian govt's decision to "aggressively pursue a booster programme is wise", and elaborates on the challenges of long Covid and the road ahead.
🗞️ Subscribe Now: Get Express Premium to access the best Election reporting and analysis 🗞️
Why Hotez: Dr Hotez is an internationally recognised physician-scientist and among the most trusted voices on vaccine development. The Hyderabad-based Biological E's Corbevax, which is being administered to children between the age group of 12-14 years in India, was developed in collaboration with the team of scientists headed by Dr Hotez at the Texas Children's Hospital Center for Vaccine Development and Baylor College of Medicine in Houston, Texas.
Covid-19 vaccines were developed for protection against severe disease and mortality. In the next phase, will we see vaccines that will stop transmission or protect against asymptomatic infection?
The original way these vaccines were conceived was to stop symptomatic illness; so not only severe disease and hospitalisation. Of course, you want to prevent those as well, but you would also like to stop all symptomatic infections and emergency room visits. I think that is very important. And the reason for that is because we are now learning about the consequences of Long Covid-19 — like the neurological deterioration. This is going to haunt both India and the United States. We have the right to demand higher performance from these vaccines, beyond protection against hospitalisation and deaths. Of course, that remains the priority. But I think these vaccines can do more provided they are adequately boosted, revised… (It will also be based on) how we especially use heterologous boosters, because I think that will give more enduring and lasting protection.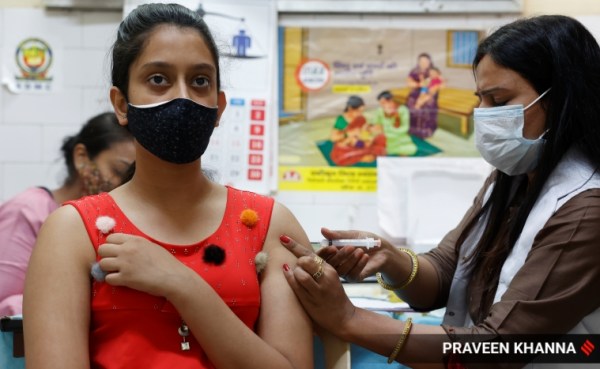 At a Covi-19 vaccination centre in New Delhi on Saturday, April 04 2022.
We had the Delta variant which caused severe symptoms. Now we have Omicron, which is less severe but is highly transmissible. There is a possibility of the emergence of another Covid-19 variant in the future. How do we develop that one Covid-19 vaccine that can protect against all variants? Is it scientifically possible?
It looks as though if you immunise and boost with a vaccine against the original lineage, it actually holds up pretty well against Omicron — but it requires a fair bit of boosting. I think the issue in a place like India where Covishield is widely used… I am not clear whether those vaccines by themselves would be as powerful as they would be with an additional booster. And potentially, Corbevax could be a booster for that, and really help in fighting off the new variants of concern. This is something Biological E together with the Indian regulator is looking at now: the potential for Corbevax not only to be used as a standalone vaccine for children and adolescents, but also potentially as a booster in adults.
I…


Read More News: 'Long Covid will haunt us…We have the right to demand higher performance from