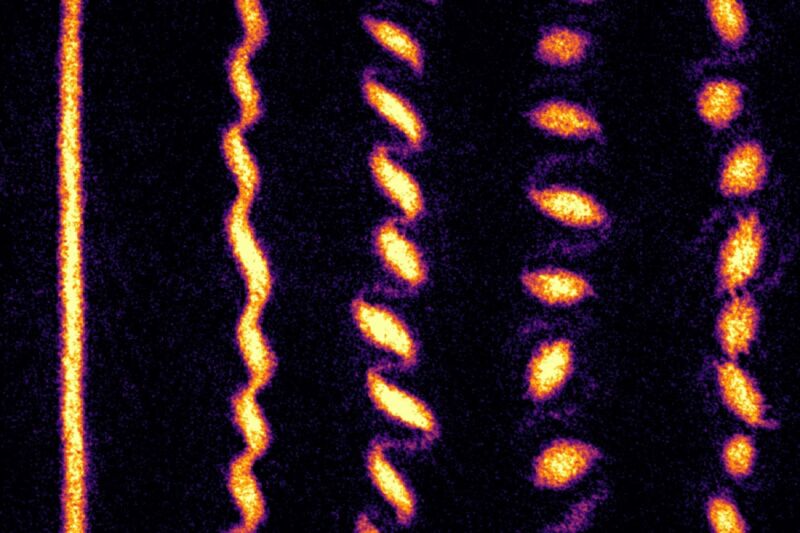 Physicists at MIT have succeeded in getting "quantum tornadoes" to form in clouds of ultracold atoms, according to a recent paper published in the journal Nature. This is the first direct, in situ documentation of how a rapidly rotating quantum gas evolves, and per the authors, the process resembles how the rotational effects of the Earth can give rise to large-scale weather patterns.
The MIT scientists were interested in studying so-called quantum Hall fluids. First discovered in the 1980s, quantum Hall fluids are composed of clouds of electrons floating in magnetic fields. In a classical system, the electrons would repel each other and form a crystal. But in quantum Hall fluids, the electrons mimic the behavior of their neighbors—evidence of quantum correlation.
"People discovered all kinds of amazing properties, and the reason was, in a magnetic field, electrons are (classically) frozen in place—all their kinetic energy is switched off, and what's left is purely interactions," said co-author Richard Fletcher, a physicist at MIT. "So, this whole world emerged. But it was extremely hard to observe and understand."
So Fletcher and his co-authors thought they might be able to simulate this unusual behavior of electrons using clouds of ultracold quantum gases. Known as Bose-Einstein condensates (BECs), these gases are named in honor of Albert Einstein and Indian physicist Satyendra Bose. In the 1920s, Bose and Einstein predicted the possibility that the wavelike nature of atoms might allow the atoms to spread out and overlap if they are packed closely enough together.
At normal temperatures, atoms act like billiard balls and bounce off one another. Lowering the temperature reduces their speed. If the temperature gets low enough (billionths of a degree above absolute zero) and the atoms are densely packed enough, the different matter waves will be able to "sense" one another and coordinate themselves as if they were one big "superatom."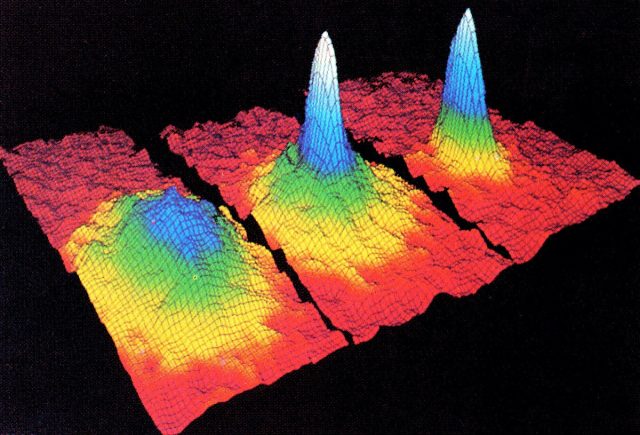 The first BECs were created in 1995, and within a few years, more than three dozen teams had replicated the experiment. The Nobel Prize-winning discovery launched an entirely new branch of physics. BECs enable scientists to study the strange, small world of quantum physics as if they were looking at it through a magnifying glass, because a BEC "amplifies" atoms in the same way that lasers amplify photons.
Ultracold atomic gases are good at simulating electrons in solids, but they lack charge. That neutrality can make simulating phenomena like the quantum Hall effect a challenge. Putting a spin on such a neutral system is one way of…


Read More News: Physicists discover that clouds of ultracold atoms can form "quantum tornadoes"