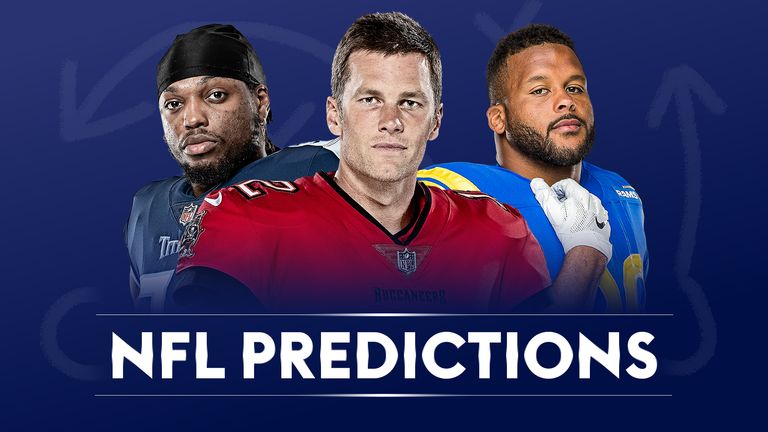 The opening round of the NFL playoffs followed much the same pattern of the regular season, with some thrilling football played out over Super Wild Card Weekend – and Neil Reynolds again getting the better of Jeff Reinebold with his predictions…
As well as hosting Inside The Huddle on Sky Sports NFL every Tuesday at 9pm, Neil and Jeff release a weekly audio edition of ITH every Wednesday in which they make their game picks.
Neil emerged victorious (175-168) in the regular season, and Neil opened the playoffs with a further two-point swing in his favour as he correctly called wins for the San Francisco 49ers, on the road against the Dallas Cowboys, and for the Los Angeles Rams over the Arizona Cardinals on Monday night. Can Jeff play for some pride and get a win this weekend?
Click on the link below to listen to this week's ITH podcast, and read on to see Neil and Jeff's Divisional Round game picks…
Cincinnati Bengals @ Tennessee Titans
Saturday, live on Sky Sports NFL, 9.30pm
NEIL PICKS: Titans
"This one is tricky. Initially I fancied Cincinnati to beat Tennessee… but only one team gets a bye, and the Bengals are quite banged up now on their defensive line – Larry Ogunjobi we know is out with a foot injury, he's on injured reserve, and Trey Hendrickson has a concussion.
"I do still think the Bengals will make this a really competitive game – Joe Burrow is in red-hot form, with 1,215 yards, 10 touchdowns and zero picks in his last three outings – but I'm actually going to flip my pick, and probably annoy myself if Cincinnati now win. I'm taking the Titans."
JEFF PICKS: Titans
"A team like Cincinnati is rebuilding, and the way the league is structured – with a salary cap and draft choices – the hardest thing to acquire is depth, because that takes time.
"So when you lose a guy like Ogunjobi, or Hendrickson, the drop off to the next guy can be really…


Read More News: NFL Divisional Playoff Predictions: Titans, Packers, Buccaneers and Chiefs? Who will