Demand for coronavirus shots for children is slowing, prompting concern.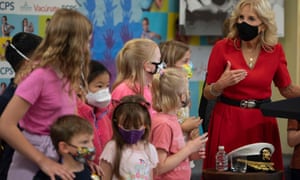 After a quick surge in demand, children's vaccinations in the US have tapered off sooner than expected.
The US has now reached the milestone of 200 million people fully vaccinated, with 75% of Americans aged five and older receiving at least one dose.
Five million children between the ages of five and 11 have received at least their first dose, but this is out of the 28 million children in this age group, according to the US Centers for Disease Control and Prevention (CDC).
That means only 17.8% of the newly-eligible kids have begun vaccination, with only 4.3% fully vaccinated, as the Christmas holiday approaches and a winter surge continues ticking upward.
After a short period of high demand, kids' vaccinations began declining around Thanksgiving and continued downward.
"This happened faster than expected – about 2 weeks in." Jen Kates, coauthor of a new report from the Kaiser Family Foundation, said on Twitter.
There are "significant" geographic differences with kids' vaccinations, Kates said. In Vermont, 45.6% children in this age group have begun vaccination, versus 3.6% in West Virginia.
Parents are more likely to get their children vaccinated if their schools encourage them to, both because of the comfortable environment of school clinics and the trust families have in principals and other school leaders, Kates said.
Some parents and caregivers have expressed reluctance over vaccinating their kids, with only one-third saying in September that they would do so as soon as the vaccine was authorized for the younger age group, five to 11.
Some families may also face access barriers, an issue that is hard to determine at this point because of the limited data on race or ethnicity and other factors among vaccinated children.
"All this points to a long, tougher road ahead to getting Covid-19 vaccine rates up among kids, a concerning finding in advance of the holiday season, and as Omicron transmission increases," Kates said.




Read More News: Court rules against Trump effort to shield documents from Capitol attack panel – live