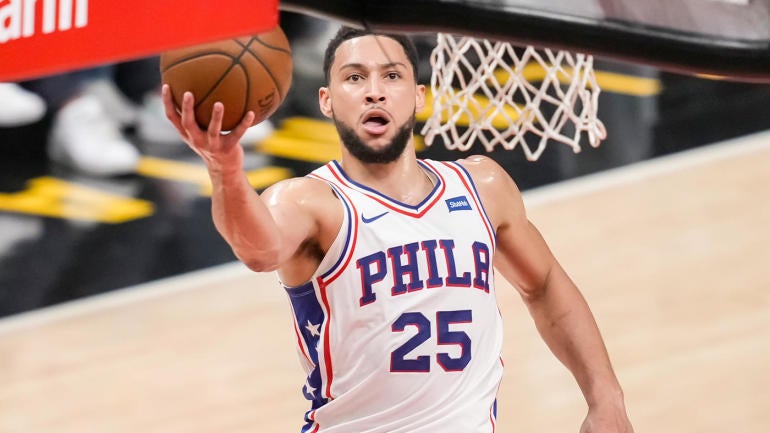 USATSI
With training camp approaching and Ben Simmons reportedly prepared to sit out, the Philadelphia 76ers are running out of time to trade their embattled All-Star before things start to get even more messy. The problem, thus far, has reportedly been their sky-high asking price. General manager Daryl Morey reportedly wants a "Harden-esque" package in exchange for his point guard, and no team has been willing to meet that price yet. 
But with months of negotiations now in the books, we're starting to get a sense of which teams are serious about adding Simmons. One such suitor is the Cleveland Cavaliers. According to Marc Stein, they are still trying to land Simmons, and on paper they can make a compelling offer. 
Please check the opt-in box to acknowledge that you would like to subscribe.
Thanks for signing up!

Keep an eye on your inbox.

Sorry!

There was an error processing your subscription.

Cleveland has control over all of its first-round picks, so in theory it could offer Philadelphia a package of picks similar to what Brooklyn gave up for James Harden (though whether Simmons warrants such a haul is another question). In Collin Sexton and Darius Garland, Cleveland has two young players with All-Star potential. One — likely Sexton given Cleveland's apparent disinterest in giving him a long-term extension and Garland sharing an agency with Simmons in Klutch Sports — could go to Philadelphia without depriving the Cavaliers of a more traditional guard. Philadelphia has lacked that exact sort of player, and it has shown in its half-court offensive struggles late in playoff games. 
A Simmons trade could also serve as a solution to Cleveland's Kevin Love problem. The veteran big man reportedly is not interested in a buyout, but with Jarrett Allen, Lauri Markkanen and Evan Mobley now in the front court, the Cavaliers no longer have a place for him. The Cavs would need to send out a sizable chunk of salary to match money in a Simmons deal, and including Love could get him to a winning team without him having to make a financial sacrifice. Throw in other young players such as Isaac Okoro and Cleveland has all of the pieces it needs to make a competitive offer for Simmons. 
Ultimately, though, this is just going to come down to how desperate the 76ers are to make a trade at all. Their preference would certainly be to wait and hope that either Bradley Beal or Damian Lillard becomes available in the near future. Are…


Read More News: Ben Simmons trade rumors: Cavaliers still trying to acquire 76ers' All-Star, per