The late Wiradjuri and Yorta Yorta activist William Townsend "Bill" Onus Jr was a larger-than-life activist, boomerang champion and theatrical entrepreneur.
But Onus might also have become as famous for the cinematic portrayal of the plight of his people, had his documentary film work ever seen the light of day.
In 1939, Bill Onus was a leader of the Aboriginal mass strike at Cummeragunja in New South Wales, the reserve he was born on, in 1906. Ten years after his birth, he fled with his mother and siblings, after they were warned welfare would take children away. Towards the end of his life, he was a key campaign figure in the successful 1967 referendum that amended the constitution to count Indigenous people as Australian citizens for the first time.
"Ongoing mythologies have sprung up around Bill," says his grandson Tiriki Onus. Born 12 years after Bill's 1968 death, Tiriki would be "constantly told growing up how much I looked like him"; one aunt even approvingly informed him he had a "Bill-shaped head". A bass-baritone, Tiriki was cast by Deborah Cheetham to play his grandfather in the 2010 opera, Pecan Summer.
Tiriki knew his grandfather made films, but had no idea to what depth and extent. One day, he was rifling through an old suitcase in his mother's basement, which contained photographs of Bill – including some taken by Bill's wife, Mary, who had married Bill against her wealthy white family's wishes. One photo showed three Aboriginal boys in ceremonial paint looking at a Bell and Howell 32mm movie camera, on location in Heidelberg, Melbourne, in 1946.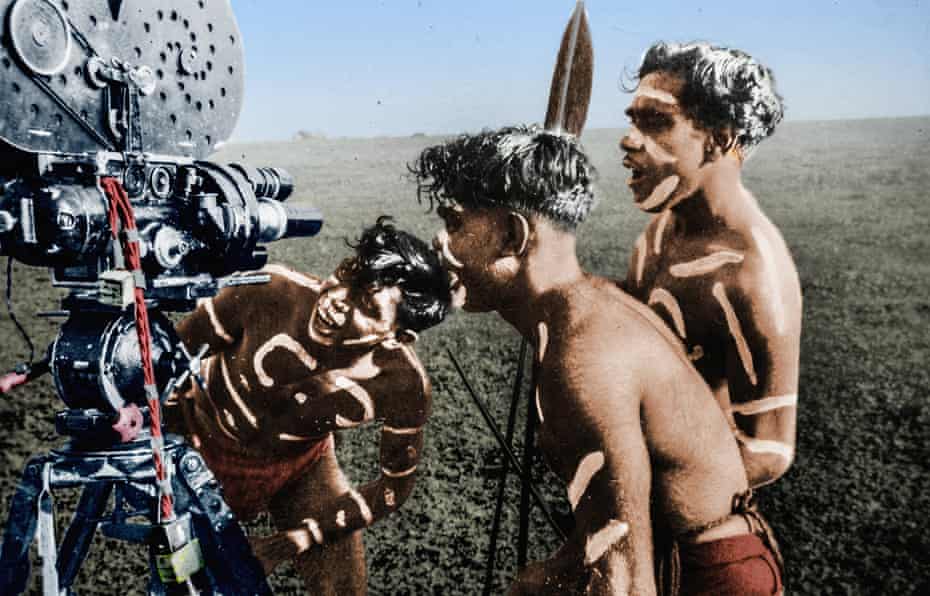 Some time later the film-maker Alec Morgan, known for the 1983 documentary Lousy Little Sixpence, rang Tiriki to introduce himself, and to ask: "Do you know your grandfather was the first Aboriginal film-maker?" Onus replied: "I know he filmed stuff, but all those films were burned, they were lost."
Morgan countered: "I've found this film in the archives that I think belonged to Bill."
While Bill Onus had appeared as an extra in Charles Chauvel's Uncivilised of 1936 and Harry Watt's The Overlanders a decade later (gaining little credit for his cultural advisory role with Watt), family lore held that he had also made his own films, which had been destroyed in a caravan fire in the late 1950s. Tiriki is unsure of the films' content, but there were stories of him filming proceedings of "significant meetings of Aboriginal activists up and down the east coast".
Now here was a black-and-white silent film, rediscovered in a tin at the National Film and Sound Archive, which some bygone archivist had simply marked "Aborigines in the community" – showing the same boys from the suitcase photos dancing around a gum tree and Bill throwing a boomerang, recalling his youth performing in a travelling show.
The story of this rediscovered, though untitled, nine-and-a-half minute piece of postwar footage – footage from a possibly longer documentary, or a newsreel film – is told in Alec Morgan and Tiriki Onus's documentary Ablaze, which will premiere at…


Read More News: Bill Onus: rediscovered footage casts new light on a groundbreaking life and legacy