CBS appears to be distancing itself from a "60 Minutes" report that has been widely criticized as a "hit piece" against Florida Republican Gov. Ron DeSantis by members of both parties.
The report, which aired Sunday, outlined an alleged "pay for play" scheme involving DeSantis accepting a $100,000 donation his campaign from the grocery store chain Publix in exchange for the right to distribute the COVID vaccine as part of the state's rollout.
Critics blasted the report for deceptive editing that omitted DeSantis' explanation for the vaccine strategy, the omission of Publix's donations to Democrats, and broadcasting misinformation that is even being called out by Florida liberals. 
The next day, however, there was no mention of the "60 Minutes" report on "CBS This Morning" or the "CBS Evening News," according to Grabien transcripts.
CBS' '60 MINUTES' ACCUSED OF EDITING EXCHANGE BETWEEN DESANTIS, REPORTER PUSHING 'PAY FOR PLAY' NARRATIVE 
A preview clip released Friday before the show's airing showed a tense exchange between DeSantis and "60 Minutes" correspondent Sharyn Alfonsi over what the CBS reporter suggested was influence-peddling.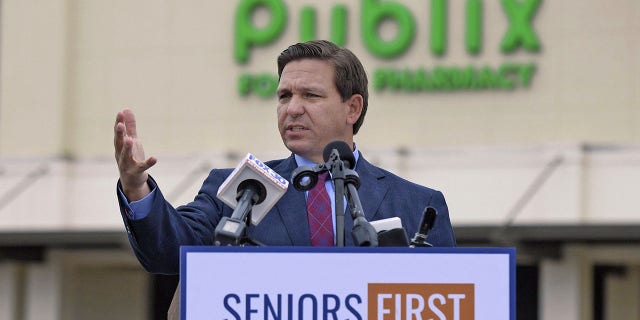 "Publix, as you know, donated $100,000 to your campaign," Alfonsi began in the clip. "And then you rewarded them with the exclusive rights to distribute the vaccination in Palm Beach –"
"First, of all what you're saying is wrong," DeSantis interrupted. 
"How is that not pay for play?" Alfonsi then asked.
"That's a fake narrative," DeSantis replied. "I met with the county mayor, I met with the administrator, I met with all the folks at Palm Beach County and I said, 'Here's some of the options: We can do more drive-thru sites, we can give more to hospitals, we can do the Publix.' And they said, 'We think that would be the easiest thing for our residents."
CBS' '60 MINUTES' SHAMES DESANTIS FOR PRIORITIZING SENIORS IN VACCINE ROLLOUT, SUGGESTS THEY WEREN'T HIGH-RISK
Alfonsi then narrated that Palm Beach County Commissioner Melissa McKinlay claimed DeSantis "never met with her about the Publix deal."
"The criticism here is that is pay for play, governor," Alfonsi told DeSantis.
"And it's wrong, it's wrong," the governor shot back. "It's a fake narrative. I just disabused you of the narrative. And you don't care about the facts. Because, obviously, I laid it out for you in a way that is irrefutable."
However, as first pointed out by conservative writer A.G. Hamilton, "60 Minutes" cut several minutes from the press conference, during which DeSantis explained what led to the deal with Publix. 
"First of all, the first pharmacies that had [the vaccine] were CVS and Walgreens and they had a long-term care mission, so they were going to the long-term care facilities. They got the vaccine in the middle of December, they started going to the long-term care facilities the third week in December to do LTCs," DeSantis told Alfonsi. "So that was their mission, that was very important and we trusted them to do that. As we got…


Read More News: CBS goes dark on DeSantis, avoids mentioning '60 Minutes' report on morning, evening