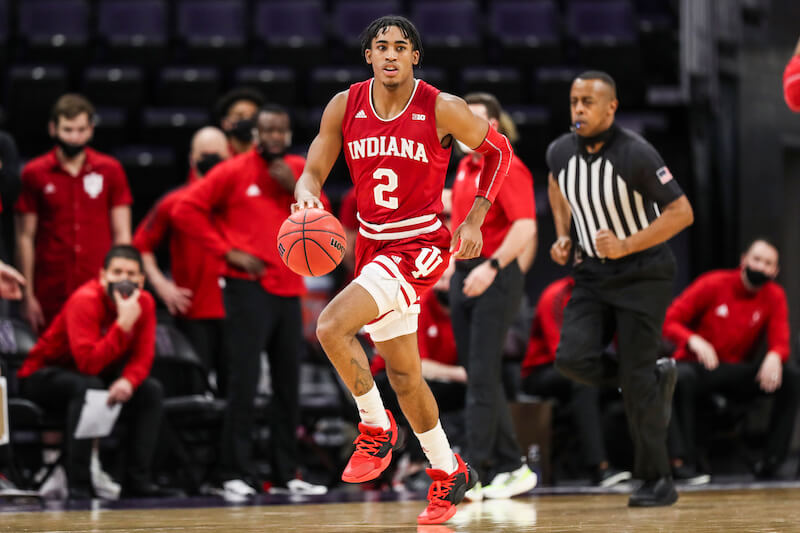 Thoughts on a 79-76 win against the Wildcats:
This had all the makings of another letdown after beating a ranked opponent. The Hoosiers came oh so close to being 2-10 in the Archie Miller era in games following a win against a ranked foe.
Their horrific offensive start would have been the reason why. The first half was particularly gruesome. Just 20 points. Only .65 points per possession. An effective field goal percentage of 31. Their first bucket of the game came at the 14:25 mark. Their 3-point shooting (30.8 percent) was better than their mark from the field (21.4 percent) and from the line (25 percent). Trayce Jackson-Davis' questionable bucket to end the half was their first two-point bucket in 10-plus minutes. They turned it over on 23 percent of their possessions allowing Northwestern eight points off turnovers.
Things didn't feel much better in the second half. Northwestern aggressively double-teamed Jackson-Davis and Race Thompson down low and Indiana just couldn't figure out how to pass out of it to open shooters. It felt a little bit like the Illinois game where a team's defensive scheme of packing the paint made Indiana's offense look woeful. Jackson-Davis scored just 10 points in this one, a season-low. He had trouble handling Northwestern's defense the entire game.
Despite all this, and despite it looking like Northwestern had this one wrapped up in regulation, Indiana pulled this thing out in double overtime, avoiding a catastrophic loss in the process.
So how did the Hoosiers do it? A combination of clutch shot-making and good work from perhaps the most unlikely place of all: the free-throw line. There was this, too: Northwestern's two untimely turnovers late in regulation to help Indiana erase a six-point deficit with under two minutes to go. Oh, and then Northwestern's shot clock turnover late in the first overtime, which helped Indiana tie it up at 66-all and send it into a second overtime. Have I mentioned Northwestern has now lost 10 straight games?
Anyway, back to Indiana's offense. As Alex wrote in What To Expect, the Wildcats have struggled to defend without fouling. So the Hoosiers kept chipping away at that fact all game long. It started out terrible. Indiana missed their first six free throws. But Indiana made 27-of-32 from the line the rest of the contest, including 14-of-15 in overtime. It was absolutely crucial in the Hoosiers coming back at the end of regulation and in the first overtime. Indiana's free throw rate (FTA/FGA) of 61 percent was its fourth-highest mark of the season. Indiana got to the line a ton in this one and actually converted at a respectable clip (71.1 percent). Al Durham made 11-of-12. Armaan Franklin made 7-of-8.
Instead of free throws being the culprit once again, they saved Indiana in this one.
So did clutch shooting from Al Durham, who had a team-high 24 points. Durham scored Indiana's last seven points in regulation, including a runner to tie the game at 54-all and send it to overtime. Durham then hit a long 2 with just over a second to play in the first overtime to tie the game at 66-all and send it to a second overtime. Armaan Franklin (23 points) had…


Read More News: The Minute After: Northwestern