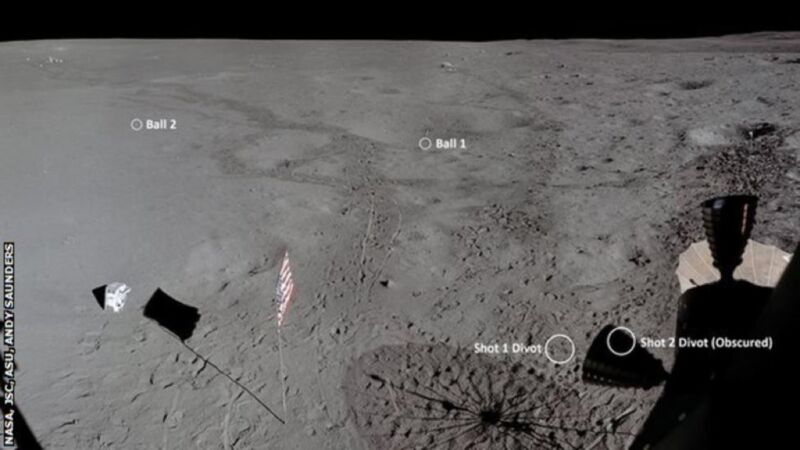 Fifty years ago this week, NASA astronaut Alan B. Shepard Jr. made space history when he took a few golf swings on the Moon during the Apollo 14 mission, successfully hitting two golf balls across the lunar surface. Space enthusiasts have debated for decades just how far that second ball traveled. It seems we now have an answer, thanks to the efforts of imaging specialist Andy Saunders, who digitally enhanced archival images from that mission and used them to estimate the final resting spots of the golf balls.
Saunders, who has been working with the United States Golf Association (USGA) to commemorate Shepard's historical feat, announced his findings in a Twitter thread. Saunders concluded that the first golf ball Shepard hit traveled roughly 24 yards, while the second golf ball traveled 40 yards.
Shepard's fondness for cheeky irreverence had popped up occasionally during his successful pre-NASA naval career, most notably when he was a test pilot at the Naval Air Station Patuxent River in Maryland. He was nearly court-martialed for looping the Chesapeake Bay Bridge during a test flight, but fortunately, his superiors intervened. When President Dwight D. Eisenhower established NASA in 1959, Shepard was selected as one of the seven Mercury astronauts. (The others were Scott Carpenter, Gordon Cooper, John Glenn, Gus Grissom, Wally Schirra, and Deke Slayton.)
Shepard beat out some fierce competition be chosen for the first American crewed mission into space. Russian cosmonaut Yuri Gagarin famously became the first man in space on April 25, 1961, thanks to repeated postponements of NASA's Mercury mission, but Shepard wasn't far behind. He made his own flight into space one month later, on May 5. Alas, he was a grounded after being diagnosed with Ménière's disease, resulting in an unusually high volume of fluid in the inner ear.
Surgery four years later corrected the problem, and Shepard was cleared for flight. He narrowly missed being assigned to the famous Apollo 13 mission—NASA's "most successful failure" and the subject of the 1995 Oscar-winning film, Apollo 13 (one of my all-time faves). Instead, Shepard commanded the Apollo 14 mission, which launched on January 31, 1971, and landed on the Moon on February 5.
To the Moon!
The idea for Shepard's golfing stunt came out of a 1970 visit by comedian Bob Hope to NASA headquarters in Houston. An avid golfer, Hope cracked a joke about hitting a golf ball on the Moon, and Shepard thought it would be an excellent means of conveying to people watching back on Earth the difference in the strength of gravity. So he paid a pro named Jack Harden at the River Oaks Country Club in Houston to adapt a Wilson Staff 6-iron head so that it could be attached to a collapsible aluminum and Teflon sample collector. Once NASA's Technical Services division added…


Read More News: Remastered images reveal how far Alan Shepard hit a golf ball on the Moon