President Joe Biden's proposal for a $1.9tn Covid relief package was based on an assessment of specific needs, White House Press Secretary Jen Psaki said on Wednesday, when asked about Republican objections about the total cost.
"The package wasn't designed with the $1.9tn as a starting point. It was designed with the components that were necessary to give people the relief that they needed," she told reporters during her first briefing after Biden's inauguration.
Psaki said it was challenging to think about which components of the proposal could be eliminated since all were based on recommendations from economists and health professionals, but acknowledged that the final version of any legislation rarely looked exactly like the initial proposal.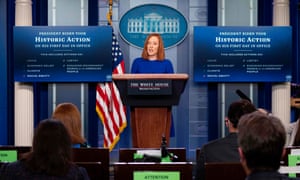 Biden, a longtime US lawmaker was no stranger to congressional negotiations, and would be closely involved in the process, Psaki said, adding: "It's a conversation, and he is no stranger to the process of deal-making."
She said the president's clear preference was to move ahead with a bipartisan bill, but the White House was "not going to take any tools off the table" for the House and Senate – which will both be controlled by the Democrats – to get it done.
She also cited an outpouring of support from US business groups to Senator Bernie Sanders for the proposal.
Biden was committed to invoking the Defense Production Act to ensure the supplies and materials needed to achieve his goal of having 100 million people vaccinated in the first 100 days of his presidency.
Further details would be released on Thursday, Psaki said.
Australia marks four days with no new cases
Australia recorded a fourth day of zero coronavirus cases on Thursday, prompting the chief of the country's most populous state to call for a special travel "bubble" with Pacific island nations.
Reuters: New South Wales has reined in an outbreak in mid-December that prompted a strict lockdown in Sydney's Northern Beaches, while broader social distancing rules and mandatory mask wearing were imposed for the rest of the city.
Signalling those restrictions were set to be eased next week, Premier Gladys Berejiklien told the Sydney Morning Herald newspaper the federal government should consider establishing a travel arrangement with the Pacific.
"There is no reason why we shouldns't aim to travel to New Zealand or some of the Pacific Islands well within the next 12 months," Berejiklian said.
The comments come after Australia's chief medical officer Paul Kelly cautioned about restarting international travel, given the country was in an "envious position" compared to most of the world.
Unlike other countries, Australia has closed its international borders, only allowing its stranded citizens back home.
However, the country is still hosting the Australian Open tennis grand slam, with…


Read More News: Coronavirus live news: WHO says 'don't panic', all will get Covid vaccine; new US CDC