Following the keynote press conference, AMD invited a number of key press partners for some Q&A time with Dr. Lisa Su. On the table, we were told, was any topic relating to AMD. Given that the company launched a number of products just as the previous year ended, and supply issues are tight for end-users, there were opportunities to quiz the CEO on production demand against supply, AMD's product cadence, and expectations for 2021.
Topics on the front of mind were AMD's announcements that had just come through the wire – the new Ryzen 5000 Mobile family, featuring an updated processor core, as well as target markets for gaming ultraportables as well as the best gaming notebooks AMD has ever been in. There was also a brief preview of AMD's interplay in the enterprise market with next-generation Milan processors, and a tie in with the Mercedes AMG Formula 1 team, given that AMD provides a technical partnership.
This roundtable was a little different than most. Despite the whole discussion being on the record, AMD requested that we (or any of the press) did not post a full transcript of the call. Traditionally we post these transcripts, mildly edited for clarity and sometimes arranged for consistency – we fought our corner with AMD, and ultimately agreed to disagree. As a result, this Q&A will be more a 'quote and explain' situation.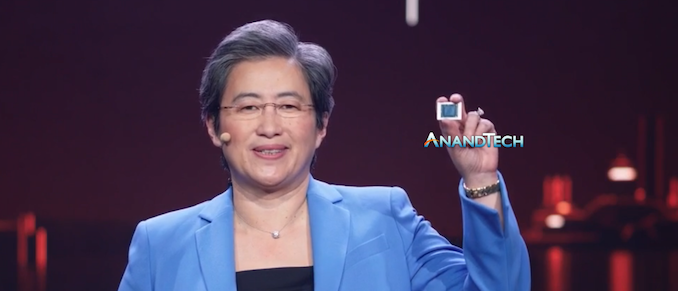 Lisa Su: 'AMD's focus is about high performance and significant generational improvements; x86 is a strong ecosystem and we continue to invest heavily. Custom designs [like Arm] are in the market, and are purpose built for use. If anything, it is a validation about how much the demand for compute is growing. We see a larger opportunity for customized solutions for specific workloads, and AMD has a strong semi-custom division to meet those opportunities'.
My initial question to Lisa was about the emergence of Arm. It's a question I have asked Lisa before, as well as AMD CTO Mark Papermaster, however this position of the market now is very different. Amazon's Graviton2 is now being deployed widely over at AWS (read our review), and Ampere's new 80-core Altra processor (read our review) sits at the top of the stack for single socket HPC performance. Our argument is that these Arm based models are encroaching on the traditional x86 market, and given Arm's year-on-year expected performance gains from its roadmap ranging from 30% to 50%, if x86 is still focusing purely on high-performance compute, it might stand to be overtaken. Our goal with a question like this is to extract an idea of how AMD (and Intel, I asked a similar thing to CEO Bob Swan) plans to approach the competition, either by building above it, or using a two pronged approach between x86 and Arm. These would be the two high-level approaches we might expect.
Lisa's answer was not particularly committal either way, instead citing the fact that as the industry is growing, it gives more opportunities for specialized products. If anything, according to Lisa, it validates the desire for compute and the agility to build for and target specific workloads. Not to say that we disagree with Lisa here, but the…


Read More News: AMD CEO Dr. Lisa Su: Interview on 2021 Demand, Supply, Tariffs, Xilinx, and EPYC