Cowboys coach Mike McCarthy could've used the 10 minutes he had with his players at halftime to unload on them—and no one would've blamed him. Dallas, already 0-1, lost three fumbles, fouled up a fake punt, went 2-of-6 on third down, and allowed two of the most wide-open touchdown passes you'll ever see, the first to Falcons tight end Hayden Hurst, the second to wide receiver Calvin Ridley.
Instead, McCarthy calmly told his players they needed to do two things over the last 30 minutes. They needed to take care of the ball better. And they needed to steal a possession.
The players wound up answering the bell on both counts. But explaining how they got the latter request filled requires a backstory that goes back to when McCarthy was still studying tape in his barn in Green Bay, his current staff was scattered across the country and an onside kick attempt was not converted on the same AT&T Stadium field that played host to Sunday's games.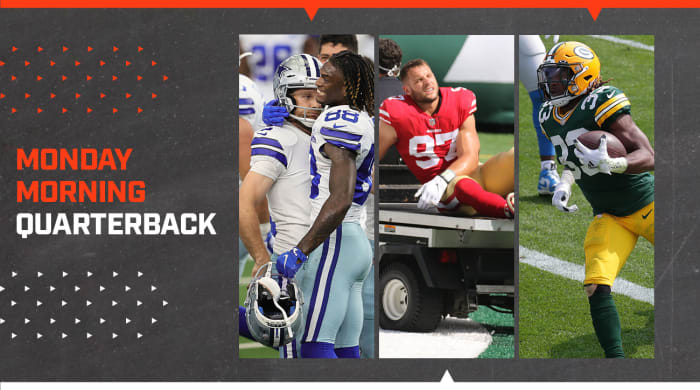 In 2019, then-Rams special teams coach John Fassel had to adjust an onside kick strategy he had in his bag after the Ravens and Justin Tucker used something similar—it was a funky dropkick that froze the hands team and sent a knuckler their way off a high bounce—and it was subsequently banned by the league. So Fassel, kicker Greg Zuerlein and punter Johnny Hekker devised a new way to force the hands team to think quickly.
The idea was to tee the ball up at a 45-degree angle and boot the front tip, so it would spin back-to-front to cover the 10 yards it needed to go before the kicking team could legally recover it, but cover that 10 yards as slowly as possible. The logic went that the hands team would have to decide whether to charge the ball (and risk touching it but not covering it, making it a live ball) or let it go 10 yards, with the kicking team around it (making it a 50/50 ball).
Since the ball would be moving slowly, the kicking team would have time to surround the ball and have time for players to position themselves to cover it 10 yards downfield—with the hands team, the hope went, still wondering what the hell to do.
Anyway, the Rams put this in last fall and held a weekly competition between Hekker and Zuerlein to see who'd get the call if the situation arose to actually call it.
Hekker won the competition last year in Week 15, and the Rams fell behind in Dallas. After L.A. scored a touchdown to cut the Cowboys' lead to 37-15, Fassel decided to give it a shot. So Hekker got his swing at it, and the ball trickled out of bounds. A few weeks later, Fassel left the Rams and Zuerlein wound up following him to Dallas, leaving Hekker as the only member of this onside kick thinktank in L.A. And that was that.
Or so they thought.
No one would've figured back then what would happen nine months later. On that same field, that call is how McCarthy would steal that possession to turn Dallas's season around.
***
What a wild, wild Week 2 we had, and we have a ton to get to.
• The injury bug hit the NFL hard on Sunday.
• Cam…


Read More News: MMQB: Backstory Behind Cowboy's Unlikely Onside Kick