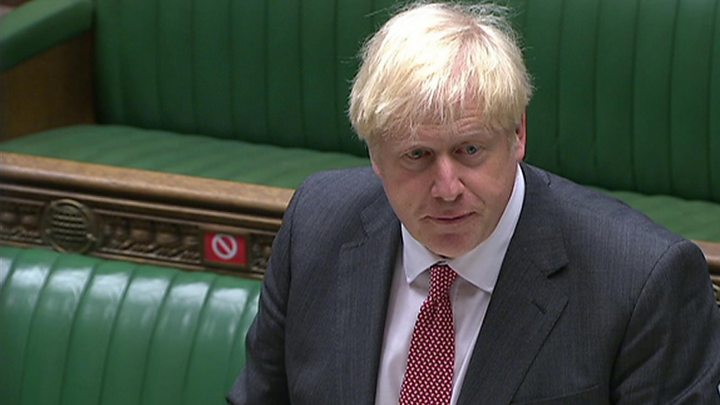 Boris Johnson has said the UK must reserve the right to override the Brexit deal to protect the country's "economic and political integrity".
The PM said legislation was needed to resolve "tensions" in the EU-UK deal.
He said it would ensure the UK could not be "broken up" by a foreign power and the EU was acting in an "extreme way", by threatening food exports.
Labour said the PM had caused the "mess" by reneging on a deal he had previously called a "triumph".
The Internal Markets Bill is expected to pass its first parliamentary test later, when MPs vote on it at 22.00 BST, despite the reservations of many MPs that it gives the UK the power to break international law.
A number of Conservative MPs have said they will not support the bill as it stands and some could register their concerns by abstaining.
The UK left the EU on 31 January, having negotiated and signed the withdrawal agreement with the bloc.
A key part of the agreement – which is now an international treaty – was the Northern Ireland Protocol, designed to prevent a hard border returning to the island of Ireland.
The Internal Market Bill proposed by the government would override that part of that agreement when it came to goods and would allow the UK to modify or re-interpret "state aid" rules on subsidies for firms in Northern Ireland, in the event of the two sides not agreeing a future trade deal.
'Protective powers'
Speaking at the start of the five-hour debate, the PM said the bill should be "welcomed by everyone" who cares about the "sovereignty and integrity of the UK".
He said the UK had signed up to the withdrawal agreement, including the Northern Ireland Protocol, in "good faith" in the belief that it would result in "light touch" regulations on trade within the UK.
He said the "protective powers" in the bill were necessary to guard against the EU's "proven willingness" to interpret aspects of the withdrawal agreement in "absurd" ways that were never intended.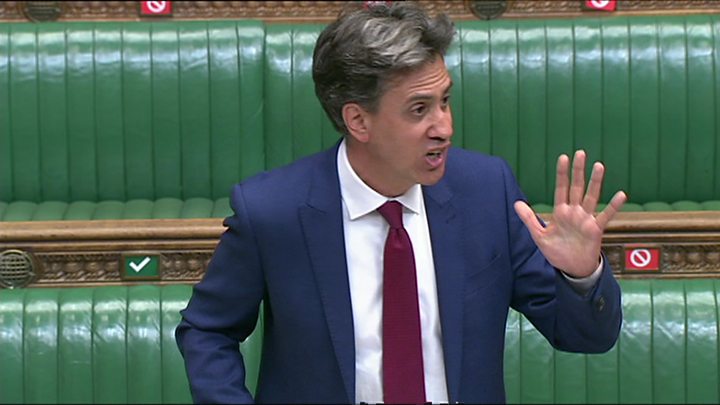 "What we cannot tolerate now is a situation where our EU counterparts seriously believe they have the power to break up our country," he told MPs.
"We cannot have a situation where the very boundaries of our country can be dictated to by a foreign power or international organisation."
He also suggested the EU was threatening not to allow Britain to export products of animal origin to either the continent or Northern Ireland and "had not taken that revolver off the table".
He sought to reassure MPs that the UK would continue to work with the EU to resolve their differences with "common sense and goodwill" and MPs would be given a vote before the reserve powers were ever invoked.
"I have absolutely no desire to use these measures. They are an insurance policy."
'Hooliganism'
But former Labour leader Ed Miliband, standing in for Sir Keir Starmer after the Labour leader was…


Read More News: Johnson says bill protects UK's economic borders