Good morning. Donald Trump suggested on Wednesday that people in North Carolina should vote twice in the November election, casting ballots both in person and by mail, despite this being a crime. When asked about the security of mail-in votes in an interview with WECT-TV, Trump said: "Let them send it in and let them go vote. And if the system is as good as they say it is then obviously they won't be able to vote" in person.
His remarkable suggestion came after he signed an equally extraordinary memo threatening to cut funding for Democrat-led cities, which Trump accused of being "lawless zones". However, legal experts have warned it is likely to be relatively ineffective, as Congress determines funding and agencies can't restrict it "willy-nilly", and any reductions in funding are unlikely to hold up against legal challenges.
Health officials have been told to expect limited coronavirus vaccine doses by November, amid concerns that Trump may push for the release of a vaccine before adequate testing has been completed, to ensure it is available by the 2020 election.
'Get off Twitter': Democratic rival Joe Biden told to Trump to spend less time tweeting, and more time ensuring schools reopened safely during the coronavirus pandemic. In a speech yesterday from his Delaware home, Biden asked: "Mr President, where are you? Where are you? Why aren't you working on this?"
Police used a 'spit hood' on a Black man who died of asphyxiation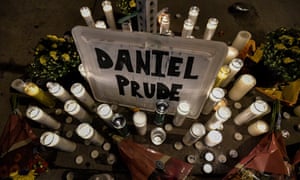 An African American man died of asphyxiation after police put a hood over his head and pressed his head into the pavement for two minutes while he was naked and experiencing mental health problems, according to videos and records released by his family.
Daniel Prude was placed in a "spit hood", a device intended to protect officers from saliva, in late March, and died seven days later after being removed from life support. Prude's death came to public attention for the first time yesterday, when his family held a news conference and released police body camera video and written reports obtained through a public records request.
Attorney general William Bar denied racism in policing, saying: "I think there are some situations when statistics would suggest they are treated differently, but I don't think that's necessarily racism." He also said that foreign countries could interfere with the US election if mail-in voting was used, but could not offer evidence for either claim.
World leaders are demanding answers from Russia over novichok poisoning
World leaders have condemned the attack on the Russian opposition leader Alexei Navalny and demanded answers from the Kremlin, after tests revealed he had been poisoned with a nerve agent from the novichok family. Joe Biden described the incident as an "outrageous and brazen attempt on Mr Navalny's life" and noted that Trump had not yet personally condemned the attack,…


Read More News: First Thing: Trump encourages voter fraud and threatens to cut funding to