The founder of the US fitness brand CrossFit will step down from his position as CEO following a disastrous few days that have seen the fitness program lose key partnerships, endorsements and the business of hundreds of affiliated gyms around the world.
The move comes after a pair of offensive tweets by Greg Glassman. On Saturday, in response to a tweet from the research centre Institute for Health Metrics and Evaluation, which stated "Racism is a public health issue", Glassman tweeted "It's FLOYD-19", in reference to the police killing of George Floyd, whose death has sparked a global protest movement.
He went on to say "Your failed model quarantined us and now you're going to model a solution to racism? George Floyd's brutal murder sparked riots nationally. Quarantine alone is 'accompanied in every age and under all political regimes by an undercurrent of suspicion, distrust, and riots.' Thanks!'"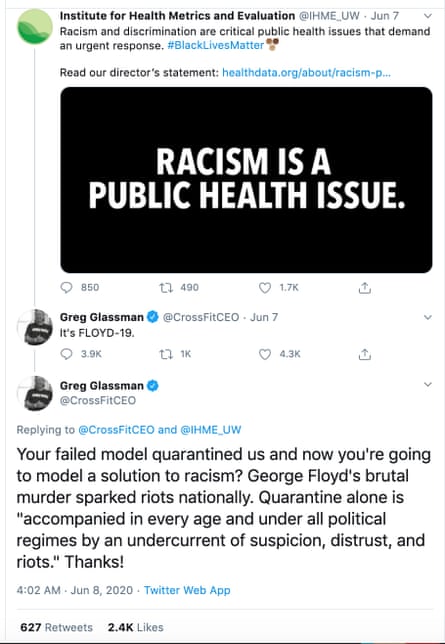 Greg Glassman CrossFit tweets.

Photograph: Twitter
Following the tweets, Reebok, the official outfitter of the fitness program, told Footwear News they would end their partnership. On 8 June, Glassman issued an apology, stating "I, CrossFit HQ, and the CrossFit community will not stand for racism. I made a mistake by the words I chose yesterday. My heart is deeply saddened by the pain it has caused. It was a mistake, not racist but a mistake."
This apology was not accepted by many of the brand's partner gyms and collaborators, Morning Chalkup, a CrossFit newsletter, is reporting that over 1000 affiliated gyms intend to end their relationship with CrossFit.
On 9 June, Buzzfeed reported that in a private, 75 minute Zoom call with gym owners and staff, hours before his tweets on 6 June, Glassman recounted unfounded conspiracy theories about the death of George Floyd, and the origins of the coronavirus pandemic.
In a recording, obtained by BuzzFeed, which published audio excerpts of the private call, Glassman said: "I was asked by the Italians, 'What would you do, coach?' And I said: 'I would agree to any restrictions put on me by the health authorities, and I would open my gym, and then 10 minutes later I would do whatever the fuck I wanted. That's what I would do.'"
"We're not mourning for George Floyd – I don't think me or any of my staff are."
On 9 June, CrossFit headquarters published a letter titled "Why didn't CrossFit just say something?"
In the letter it stated: "Greg's statements were incredibly insensitive and hurtful. Please accept our deepest apology … This team is anti-racist. Therefore, we are committed to scrutinizing ourselves internally, continuing to listen to the community, and taking actions in support of change.
"Greg believes in equality. Greg made a mistake. His communications will have to be reconciled with the person we know. He is being put on trial online, and we challenge you to be thorough in your review of a man who is imperfect but sincere in his love of helping others to become better while creating opportunities for others to do the same."
The letter also describes Glassman as "responsible for delivering a life-changing and paradigm-altering truth. The…


Read More News: CrossFit CEO Greg Glassman resigns after offensive George Floyd and coronavirus