The NFL actively participated in the blackout Tuesday initiative on social media. Many teams put a blacked-out image on Twitter to condemn the George Floyd incident and the treatment of minorities in general. However, one player who has been at the receiving end for his on-field demonstrations was not really buying this and slammed multiple teams.
Eric Reid lashes out at 49ers and other NFL sides
The former safety criticized the San Francisco 49ers for their post. First, he attacked them over their treatment of quarterback and former teammate Colin Kaepernick. The then 29-year-old QB was let go by the NFL franchise as he entered free agency and is yet to find a new team.
Reid questioned the 49ers saying, "I think you meant Blackball Tuesday…I digress." In addition to this, he tweeted a definition of hypocrisy. 
Hypocrisy: the practice of claiming to have moral standards or beliefs to which one's own behavior does not conform; pretense.

— Eric Reid (@E_Reid35) June 2, 2020
Reid didn't get the same treatment as Kaepernick initially. The team retained him for 2017 after they opted to activate the 5th year on his contract. However, he moved to the Carolina Panthers the following year and continued to take a knee.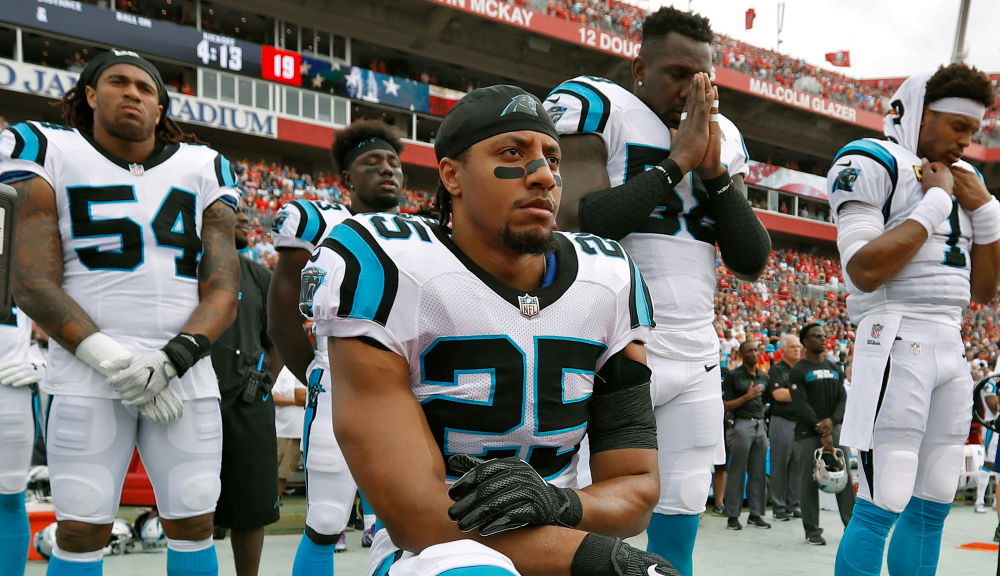 In addition to his former side, the 28-year-old free agent hit out at the Houston Texans with a tweet saying, "blackballing"
Blackballing https://t.co/npFstxE0ma

— Eric Reid (@E_Reid35) June 2, 2020
He also seemingly corrected the Arizona Cardinals over their tweet for Blackout Tuesday. 
#BlackOutTuesday pic.twitter.com/WxeaEsZKe1

— Arizona Cardinals (@AZCardinals) June 2, 2020
Reid tweeted against the Atlanta Falcons too in a similar manner saying, "Blackball Tuesday"
Blackball Tuesday https://t.co/8oARYNCOsE

— Eric Reid (@E_Reid35) June 2, 2020
He meted out the same treatment to the Chicago Bears too. 
Blackball Tuesday https://t.co/NyRuKfmRGU

— Eric Reid (@E_Reid35) June 2, 2020
The safety slammed the sides for the tweets as he is close to Colin Kaepernick and was among the first players to take a knee during the national anthem. He continued to do so after Kaepernick's release and departed the 49ers in his free agency in 2018. 
As per Yahoo sports, 49ers GM John Lynch admitted, the team informed the former quarterback that he would be released if he didn't opt out of his contract.
Reid and Kaepernick filed grievances in this regard which were settled in 2019. However, the former's Twitter activity shows that despite having settled he is not ready to let the teams get away with their "hypocrisy."
What do you make of Eric Reid criticizing multiple league sides over their blackout Tuesday posts?
"I Pray For No More" -Odell Beckham Jr Slams George Floyd's Brutal Lynching




Read More News: Why Eric Reid Slammed Multiple NFL Sides Over their Blackout Tuesday Posts? –