For some reason I raised my hand for this impossible task.
The Green Bay Packers are one of the most storied franchises in all of sports. With 13 championships won over 100 seasons, the Packers have plenty of deserving players for this Franchise Five.
Unfortunately, you won't see Bart Starr on this list. The one-quarterback-only rule forced me to make the toughest decision here. Starr is a legend with his five NFL championships and one MVP, but hopefully you'll understand who replaces him on this list.
CBSSports.com's Franchise Five dives into five most impactful people in each NFL's team history. Our rules here bind us to pick just one quarterback, three non-quarterback players and one head coach.  
Without further ado …
QB Brett Favre
He was a three-time NFL MVP playing in one of the greatest quarterbacking eras in NFL history. Favre holds every QB record the Packers have thanks to his 16 seasons and 253 starts. His consecutive games streak may never be broken. When he retired he had the most passing touchdowns, yards and wins by a quarterback in NFL history. But without his Super Bowl XXXI victory, Favre would be on the outside looking in on this list.
WR Don Hutson
Hutson didn't play in the modern era of football, but he was so far and away better at receiver than any of his peers that he has to be on this list. He's one of the most dominant players relative to era to ever play, and he revolutionized the receiver position. Hutson led the NFL in receiving touchdowns in nine of his NFL seasons — all with the Packers — and won three NFL championships.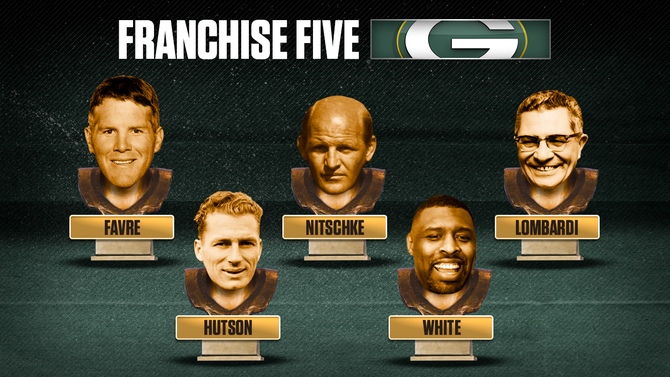 LB Ray Nitschke
Nitschke is the player representative from those five NFL championships in the middle of the 20th century. A feared linebacker for all 15 of his seasons with Green Bay, Nitschke was a seven-time All Pro and was on the league's 75th anniversary all-time team. He's among the greatest linebackers in NFL history and anchored Green Bay's defense for entire championship run.
DE Reggie White
White may be the only player to appear on two Franchise Fives. The Minister of Defense played in Green Bay from 1993-1998 where he was named an All-Pro defensive end in each year and won the NFL Defensive Player of the Year award in his final season with the Packers. White never had less than eight sacks in a season with Green Bay, and his Packers signing in 1993 was the first big free-agency move in NFL history.
Coach Vince Lombardi
Despite coaching for a fraction of the time as Curly Lambeau, Lombardi gets the nod here for a couple of reasons. First, Lambeau is the founder of the franchise and we aren't including founders in this. Secondly, the Packers were capital-A Awful before Lombardi arrived in 1959. The Pack hadn't had a winning season since 1947. Lombardi, in nine seasons, won three NFL championships plus the first two Super Bowls. He had a 9-1 record in the playoffs.
...



Read More News: Packers Franchise Five: Bart Starr edged out for QB spot on list of Green Bay legends